(1/28/23)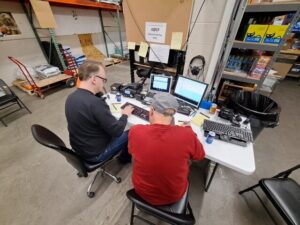 Winter field day is happening RIGHT NOW! The "contest" is going until noon tomorrow (Sunday). Come check us out at Creature Comforts. Thanks Alan for hosting and providing food!
Monthly club meeting is this tonight!
When:
12/14/2022
7:00pm to 9:00pm
(UTC-07:00) America/Denver
Where:
Creature Comforts, Centennial Center, 305 S Camino Del Rio, Durango, CO 81303
Here are some pics from last week's club meeting at Creature Comforts. Thanks to Alan, K0ADL for hosting!
Monthly club meeting is tomorrow, please note the location change to Creature Comforts.
When:
08/10/2022
7:00pm to 9:00pm
(UTC-06:00) America/Denver
Where:
Creature Comfort, 305 S Camino Del Rio, Durango, CO (Centennial Center)
Our Eagle Pass repeater site took quite a hit this winter! The 112 MPH winds took out JB's wind generator and spun one of our antennas around against a tower guy wire. Two of our solar panels also got taken out presumably by lightning. Thanks to JB for making the trip up there and taking plenty of pics!
Antenna rotated and against guy wire.
Tree across the trail towards the top.
RIP wind generator:
A pic of the station before damage: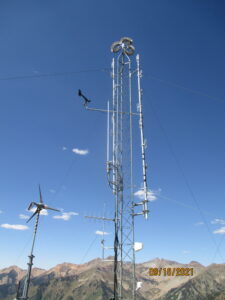 You can see the telemetry for John's APRS station at Eagle Pass here:
https://aprs.fi/telemetry/a/EGLPAS
112 MPH recorded at Eagle Pass last night via the CAIC weather station: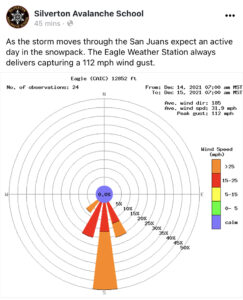 Monthly club meeting is tonight! (12-8-21)
(UTC-07:00) America/Denver
La Plata County Administration Building, 1101 E 2nd Ave, Durango, CO
+16699006833,,4415532097#,,,,*756281# US (San Jose)
+12532158782,,4415532097#,,,,*756281# US (Tacoma)
*(10-26-21) Missionary Ridge Repeater is back on the air! Please give special thanks to KB5ITS/Ben and N0HGV/Steve – both spent many hours "fixing' a lot of unexpected problems that this project entailed.
The new stack:
The Animas Valley Balloon Rally is this weekend! Details are in the schedule of events. This is a great event to cruise around and watch the balloons while on the radio.
Schedule:
AVBR PUBLIC SCHEDULE OF EVENTS
Pictures of the balloons:
Monthly club meeting is tonight at 7:00! Location: La Plata County Administration Building, 1101 E 2nd Ave, Durango, CO
Join Zoom Meeting
Meeting ID: 441 553 2097
Passcode: BUDDY
*Edit* Paul has offered a bug, so we're all set!
I will be doing a program on Morse Code (CW). I will be displaying some of the different keys you may come across. If anyone has a Vibroplex bug or similar key and want to show it off, please bring it! I still don't have one of my own. Thanks! -Zach
Reminder: Monthly Membership Meeting
When:
10/13/2021
7:00pm to 9:00pm
(UTC-06:00) America/Denver
Where:
La Plata County Administration Building, 1101 E 2nd Ave, Durango, CO
The Silverton Ultra Dirty Marathon just wrapped up. We were thankful for great weather, however the smoke did come in rather thick! Pics are from the Champion-Venture Aid Station.
This year was the first for the 100 mile race which started at the Colorado Trail in Junction Creek area near Durango.
There were lots of thru-hikers on the trail:
Keeping track of runners in and out of station. Harder than it looks!
A little late, but here are some photos from the 2021 Hardrock! Congrats runners! Pics are from the Pole Creek Aid Station. A beautiful place to be, but a bit of a hike!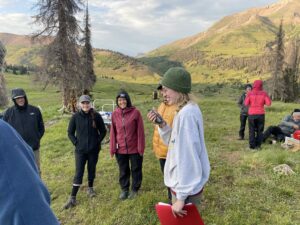 No pack animals this year so that aid station staff had to hike in all the supplies. Thankfully they created this neat dolly:
Huge thanks for all the help with Eagle Pass today(7-24-21). We removed the old shed and installed two new solar panels!
Wood shed (between solar panels and U-haul box) was to be removed:
Not an easy hike down to the truck!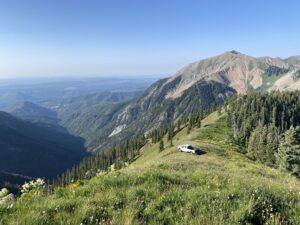 Most of the shed removed, prepping the solar panels to be installed:
Both panels mounted. Working on wiring as thunderstorms are rolling in!
All loaded up! We were chased off the mountain by hail and lightning, but everyone got down safe.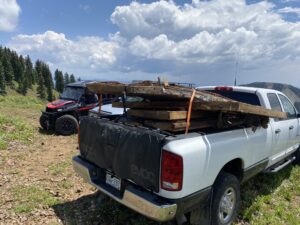 JB, N0GIO went up to do some work on and around Kendall yesterday(7-9-21). Anyone know what the "lightning rod" pole is for on the CAIC equipment? JB says the top is much lower than their actual antenna.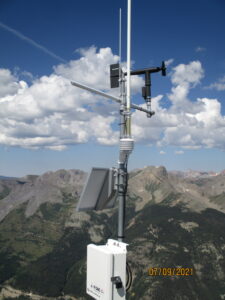 On Saturday, June 26, 2021, we held a VE testing session back in our original testing location for the first time since the pandemic started!
We had several applicants sucessfully pass their Technician exam and had a couple of upgrades. Here are the results:
Theodore – KF0GAA — New Technician
Matthew – KF0GAB — New Technician
Nathan – KE0WUP — Upgrade to Amateur Extra
Blake – KF0FZZ — New General
Robert – K0RBK — Upgrade to General
John Ball, N0GIO installing some new solar panels and equipment at his APRS Digipeater on Parrot Peak.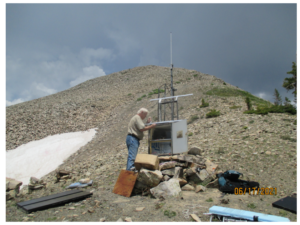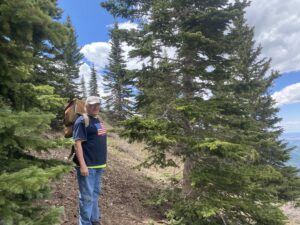 Some of the other towers on Parrot Peak:
Mark Harris, K9YXF putting on a mini field day demonstration for the Cub Scouts. Thank you for all the club members who participated and made contact with Mark.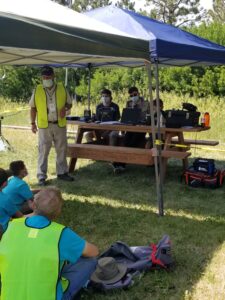 Nice warm day for an antenna build! Lots of fun catching up with everyone. We built 6 VHF/UHF handheld antennas, though we ran out of time to tune them for UHF. Thanks to Ben McGaha for donating his time to build these antennas.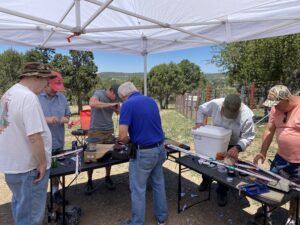 Sorry for the late notice. Monthly meeting is in an hour at 19:00.
Select Join a Meeting – Meeting ID: 441 553 2097 and Passcode: RADIO
June 12 is our DIY Antenna build day, in Bayfield. We have 3 slots left for the VHF antenna build. Cost is $20 for materials. Feel free to join just for fun as well! Message us via facebook and we'll get you on the roster and give you the location details. See you there!
SATURDAY, JUNE 26, 2021 AT 1 PM MDT – 3 PM MDT.
Location: 1101 E 2nd Ave, Durango, CO 81301
Amateur Radio License Testing
(5-15-21)
Repeater maintenance on our Missionary Ridge repeater. We had great weather and only one car break down!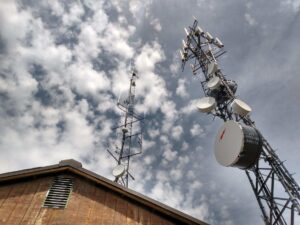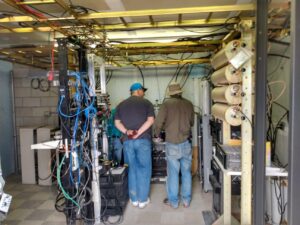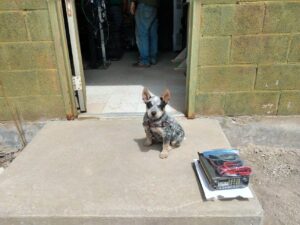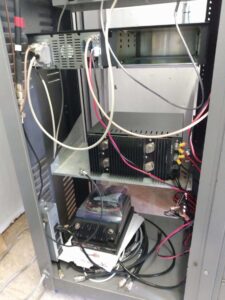 (5-12-21)
We are looking for communications volunteers for the Ironhorse Bicycle Classic on May 29. If you are interested in helping out we would love to have you! If you are not licensed, but still interested we can still pair you with an operator so you can see what its all about! Please DM us on our Facebook page and we will set you up with the event coordinator.
(3-29-21) Big Congrats to all of our new (and upgraded) Amateur Radio Operators! Nice job!
Wesley – KF0EWH New General
John – KF0EWI New Technician
David – KD0WWT Upgrade to General
Christopher – KF0EWJ New Technician
Susan – KF0EWK New Technician
Michael – KF0EWL New Technician
Andrew – KF0ASM Upgrade to General
Nanette – KE0PWL Upgrade to General
Lane – KF0EWM New Technician
Robert – KF0EWN New Technician
We're looking forward to seeing you on the air!
Meetings: Currently being held mostly on ZOOM. We are hoping to have them fully in person again soon. We do intend on keeping the ZOOM platform as well for anyone who can't attend in person.
Treasurer Dave, KD0WWT, with a great catch at Vallecito Reservoir.